The daycare dilemna
If you're returning to work after the birth of your baby, you're probably weighing up the pros and cons of putting your child into care. You may be feeling extremely ambivalent about whether daycare is the best choice for your family - and you're not alone. Here, three mothers share why they chose daycare and how it worked for them.



So you finished school, went to university, got a job and started building your career, and you figure now it's about time you factored in a baby or two. You're established enough in your career that a few months off on maternity leave won't make too much of an impact, and, of course, there are plenty of quality daycare options around for when you're ready to return to work. It's an easy decision, huh? In practice, maybe not.
     In fact, Dr Susan Maushart, prominent feminist thinker and author of the book The Mask of Motherhood: How Becoming a Mother Changes Our Lives and Why We Never Talk About It, says that while her head was completely at peace with the idea of putting her child into daycare, in her soul it was a totally different story.
     "I felt very ambivalent in my soul about daycare," she admits, "even though with my mind, I had no problems about it at all. That was really unanticipated. I didn't think I was going to have that struggle, but I did, and it affected the trajectory of my subsequent career."
     Maushart is not alone in her discovery that motherhood carries with it a far heavier weight of emotions than one can possibly anticipate without having first experienced it. Whether returning to work is a choice, a necessity, or a combination of both, many women experience some degree of guilt, regret, self-doubt and second thoughts.
    For some, these feelings will be fleeting and the satisfaction of a thriving career and a thriving child will leave them feeling content in their decision. For others, the dissatisfaction will linger on for longer, and may even lead them to abandon their careers in favour of becoming stay-at-home mums. Whatever the decision, you can be sure it is not made lightly - as these three mothers can attest.



Briony's story 
Briony Singleton is mum to Ethan (4) and runs a small business from home. When Ethan was younger, she worked as a senior quality and training specialist for a large company. Ethan started at daycare when he was nine months old.
     Daycare was a choice for Briony Singleton and her husband Shaun. Although it wasn't a financial necessity, Briony wanted to return to work and continue the career she had started before their son, Ethan, was born. They enrolled Ethan in a local daycare centre, and, when a space became available a few months before Briony was due to start back at work, they decided to take it.
"Having Ethan in full-time care from nine months of age was fantastic," says Briony. "He really seemed to enjoy the extra attention, he was coping well with the change in environment, and he hardly contracted any illnesses, which was something we had been a little concerned about with him starting so young."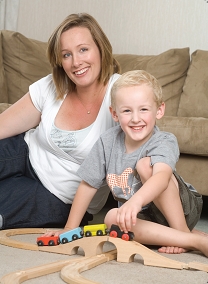 Things continued to go well for the first few months, and Briony started back at work three months later. It was then they began having problems.
     "Ethan started getting all sorts of bugs, and he was teething like nobody's business," Briony recalls. "Shaun travels a lot with his work so, consequently, it was me who had to leave work every time the daycare rang to tell us Ethan was sick."
     That wouldn't have been a problem if it was an occasional occurrence - but Briony says the daycare's particularly rigid policy on "bowel motions" meant that, most weeks, she was taking time off work with Ethan, as the centre considered him to be sick.
     "I remember getting phone calls when I'd only just arrived at work after dropping him off, to be told that he'd had two loose bowel motions so he had to go home," she recalls. "He was teething at the time, so of course he had loose bowel motions!"
     Briony describes herself as feeling "held to ransom" over the centre's illness policies, and it soon began to impact on both her work and her relationship with Shaun.
     "I was getting behind with my work, and my boss was pressuring me to hire a nanny to avoid these 'daycare issues'. Shaun and I had numerous arguments over who was going to pick Ethan up, and he genuinely couldn't get away from work, so it always ended up being me - and I resented it.
     "Eventually I realised that of the four months I'd been back at work, I'd had the equivalent of more than a month off work with sick days and leaving early. I was tired. Tired of the arguments, tired of paying the daycare money only to have them say Ethan was too unwell to be there, tired of receiving pressure from my boss. I was just plain over it!"
     Briony and Shaun sat down to discuss the situation, knowing that for things to run smoothly, one of them would have to give up work.
     "We did consider Shaun giving up work as I was the higher earner," Briony says. "But he had better earning prospects long-term, so we decided it would be me. I have never been as relieved as I was the day I handed in my notice at work!"
     In the three years since, Briony has never regretted leaving work - in fact, she describes it as the best decision she has ever made.
     "Ethan and I have so much fun together," she says. "It's been wonderful to have lazy days in our pyjamas, to be able to go to the zoo, the park, or the beach whenever we feel like it."
     With Ethan off to school this year, Briony has set up her own business from home sewing breast pads, baby spill cloths and other baby accessories, and she says she is looking forward to staying home with their second child, due in August.
     "Working from home, albeit in a far different role to the one I had when I went out to work, works out so much better for us. There's far less pressure on our time. I could almost say that I feel relaxed!" 



Sarah's story
Sarah Leach works in senior sales support for a fire and general insurance company. Her son Jack (10 months) started at daycare when he was seven months old.
     For Sarah Leach, it was never a question of if her son Jack would attend daycare, but rather a question of when. During her pregnancy, Sarah and her husband Mike decided that she would return to work around six or seven months after the birth of their baby, so they began looking around for a suitable daycare centre.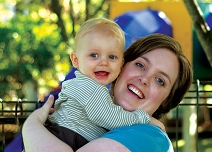 "We booked in with a reputable daycare centre near our home when I was still pregnant," says Sarah. "The place we chose was highly recommended by friends and colleagues. I had no hesitation in choosing it. But as the time for Jack to start grew nearer, I became more anxious.
"It didn't seem like a big decision when I was pregnant, but once Jack was actually here, I started having second thoughts."
     By the time Jack started attending daycare, when he was seven months old, Sarah was questioning her decision to return to work as she felt nervous about her decision. But she says orientation days prior to Jack's official start date helped make the transition easier.
     "The staff were really good, and took the time to address our concerns and reassure us that Jack was going to thrive in the daycare environment. That really helped - it made me feel more confident about returning to work."
     Even so, the first couple of weeks took a lot of adjustment for the whole family as Sarah settled back into work and Jack got used to his new caregivers during the day.
     "The mornings and evenings were so busy," Sarah admits. "Mornings were chaos trying to get everyone out the door on time, and Jack didn't sleep well at daycare initially so he was tired and grumpy, which made evenings a write-off. That was hard, as it was really the only family time we had during the week and he was so grouchy.
     "His caregivers were great, though. They made the transition so much easier and took heaps of pictures of Jack during the day, so I didn't feel like I was missing out on too much. It really did make a big difference."
    Three months on, Sarah admits that she still feels little pangs of guilt each time she drops Jack at daycare - but for the most part, daycare is working out brilliantly for their whole family.
     "I love having part of 'me' back at work. I get to be Sarah and not just 'Jack's mum', and I love getting the reports of Jack's progress at the end of each day. Jack seems to be loving daycare too. He has even made a few little friends already!
     "But there is still that guilt, a tiny little part of me that regrets having to leave him every day, especially when he does something new at daycare for the first time and we miss it. But I try not to dwell on that - knowing he is so happy and settled there makes me feel secure in our decision. We have the best arrangement for our family."
     In fact, it's working so well Sarah and Mike have already decided that even if she stops work, they will continue to send Jack to daycare for a couple of days each week, as they feel like he is getting so much out of it. "He's happy and bright and sociable. Daycare is definately a good thing for us!"
Genevieve's story
Genevieve Foreman works as an airline reservations consultant. Her daughter, Madeleine, now 17 months, has been in daycare for just over five months.
     Genevieve Foreman never planned to put her child in daycare. When she and husband Brendan decided to start a family, Genevieve intended to stay at home until their children started school.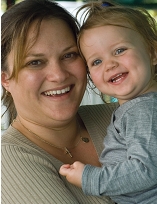 "It wasn't that I had anything against daycare," she says. "I just thought it was incredibly sad seeing children dropped off there in the morning. I felt like both the children and the parents must be missing out on so much."
     Genevieve did stay at home with daughter Madeleine for the first year, but finances were tighter than they had anticipated, and she faced the difficult decision whether to return to paid work to ease the financial strain, or to continue to stay at home.
     "It was a real challenge. Before we had children, I'd only ever seen myself being a stay-at-home mum, so even considering putting Maddie into care meant questioning all my ideals."
     The decision was made for her when she received a job offer she couldn't refuse, so they enrolled Madeleine in a local daycare.
     "I nearly burst into tears when we arrived for the first visit,"
     Genevieve says. "I really struggled with feeling like I'd let myself down, and let Maddie down. But the staff were wonderfully reassuring, and seeing the kids at the centre spontaneously hugging the staff members gave the place a really good feel."
     Genevieve was still feeling nervous when the time came for Madeleine to start, but Maddie didn't share her mother's reservations. "We were warned that most kids enjoy the first week there, then have a total meltdown - but not our girl!" smile Genevieve. "Some days we're lucky to even get a wave goodbye as she takes off across the room!"
     Seeing Madeleine so happy made the transition from stay-at-home mum to working mum much easier for Genevieve, but there were still a few bumps in the road.
     "I spent a good few nights crying on Brendan's shoulder, wondering whether I'd done the right thing," she recalls, "especially because deep down I was enjoying being back at work. There was quite a bit of 'mummy-guilt' there."
     Five months on, however, Genevieve is 100% happy with her decision, and not ashamed to admit she enjoys the adult interaction she gets at work. She even credits returning to work with helping to alleviate the postnatal depression she suffered after Madeleine was born.
     "It does still hurt occasionally when I think that daycare has more time to spend with Maddie than I did even as a stay-at-home mum. But then I remind myself t