Nine one-pot delicious dinners
We know you're busy, and sometimes you want to be able to toss a heap of ingredients together and hey presto, dinner's sorted. These delicious one-dish meals are easy to put together and will warm up any chilly winter evening.

Lean & Lite Butter Chicken
This divine take on the Indian classic is a mild & satisfying winter warmer with less than half the fat than regular butter chicken recipes.
Serves: 2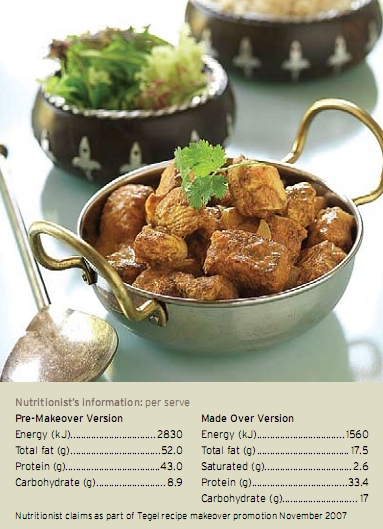 Ingredients
2 Tbsp canola or rice bran oil
1 onion, finely diced
1 clove garlic, crushed and chopped
2 Tegel Lean & Lite chicken breasts, diced (about 240g total)
1/2 tsp each ground ginger, chilli, turmeric, cinnamon
1/2 cup Lite & Creamy evaporated milk
1-2 Tbsp tomato paste (to taste)
1 tsp honey
1/2 tsp garam masala
Method
1.   Heat the oil in a large non-stick pan then add the onion and garlic and cook until soft but not browned.
2.  Cut the Tegel Lean & Lite chicken breasts into two-three cm cubes and add them to the onion and garlic mixture. Combine ginger, chilli, turmeric and cinnamon, and sprinkle these over the chicken. Toss the chicken in the spices until it is evenly coated.
3.  Cook the chicken, stirring frequently until it is golden. Stir in the evaporated milk and tomato paste (use two Tbsp for a stronger tomato flavour and colour). Cover and simmer gently for about eight minutes or until the chicken is cooked through, then stir in the honey and garam masala to taste.
4.  Serve with steamed rice and garnish with chopped coriander leaf and/or bay leaves. Add a side of steamed, seasonal vegetables.
Food tip
A significant amount of the fat in chicken is found with the skin. Once this has been removed it's low in fat. For example, an uncooked Tegel Lean & Lite skinless boneless chicken breast (100grams) contains just 2.6 grams of fat. Only 0.9g of this is saturated fat. (Independent analysis by NZ Labs for Tegel Foods Ltd, July 2007)

Monday
Seafood souflé with cheese topping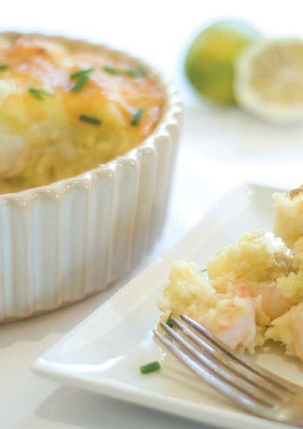 Serves 4
Who can resist a fish pie? This elegant version of a seafood souflé is sure to please the whole family, and it's a delicious way to introduce your little one to eating seafood.
Ingredients:
300g white fish fillets, skinned and boned
150ml (2/3 cup) milk
4 large potatoes, cooked and peeled (still warm)
1 garlic clove, crushed
2 eggs, with yolks and whites separated
Juice and zest of 1 lemon
Salt and freshly ground black pepper, to taste
100g shrimp, cooked and peeled
50g cheddar cheese, grated
Method:
1.  Preheat the oven to 200°C. Place the fish in a large saucepan and add the milk. Bring just to boiling, then lower the heat and cook for 12 minutes or until the fish flakes easily. Drain the fish, reserving the liquid, and place the fish in a bowl.
2.  Mash the potatoes until really creamy, using as much of the reserved fish milk as necessary to achieve the right consistency. Then mash in the garlic, egg yolks, lemon zest and juice, seasoning with salt and pepper to taste.
3.  Flake the fish. Gently stir the fish and shrimp into the potato mixture. Season with more salt and pepper to taste.
4.  Whisk the egg whites until stiff, but not dry. Gently fold the egg whites into the seafood mixture. When smoothly blended, spoon the mixture into a greased baking dish or individual ramekins.
5.  Sprinkle the souflé with cheese and bake for 25-30 minutes, until the top is golden and just about firm to touch. Don't let it brown to quickly. If that happens, reduce the oven temperature to 180°C. Serve immediately.
Tuesday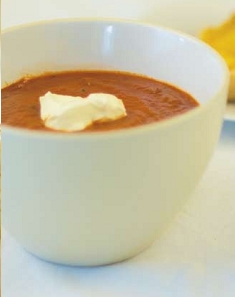 Classic tomato soup
Serves 4
Ingredients:
2 tbsp virgin olive oil
1 tbsp butter
1 large white onion, finely chopped
3 cloves of garlic, finely chopped
4 cups chicken stock
2 x 400g cans of whole peeled tomatoes (with juice)
Sugar, to taste
Red wine vinegar, to taste
1 or 2 sprigs of fresh thyme or 1/2 teaspoon dried
Salt & freshly ground black pepper, to taste
1/2 cup heavy cream (optional)
Method:
1.  Heat a large, heavy-bottomed saucepan over medium heat.  Add the oil and butter to the pan and cook until the butter is just melted. Add the chopped onion and garlic. When the onions are soft, add the chicken stock, tomatoes, sugar, a little red wine vinegar, thyme, and salt and pepper.
2.  Raise the heat to medium-high and bring the soup to a gentle simmer. Once simmering, lower the heat to low, cover the pot and cook for 45 minutes, stirring occasionally.
3.  When the soup is done, remove the thyme sprigs and pureé the soup. You can use a blender or food processor. If desired, stir in the cream after pureéing, while the soup is still hot.
4.  Let it cool down before serving. Taste and adjust seasonings with salt and pepper and serve.
Wednesday
Braised lamb shanks with ratatouille sauce
Serves 4
New Zealand lamb is a delicacy around the world - and we're lucky enough to be able to buy it at the local supermarket! Make the most of it with this hearty dish.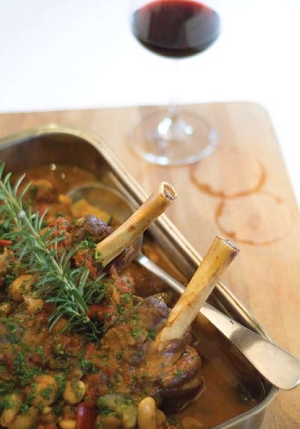 Ingredients:
4 lamb shanks
Salt and freshly ground black pepper, to taste
45ml (3 tbsp) olive oil
1 large red onion, finely chopped
2 large garlic cloves, finely chopped
1 large eggplant, diced
3 courgettes, diced
2 x400g tins chopped tomatoes
250ml (1 1/4 cups) chicken stock
15g (1 tbsp) of fresh rosemary, chopped
15g (1 tbsp) of fresh oregano, chopped
1 can (about 400g) canellini beans, rinsed and drained
15g (1 tbsp) brown sugar
Method:
1.  Season lamb shanks with salt and pepper. Heat the oil in a large casserole and fry shanks until golden. Remove the lamb shanks from the pan.
2.  In the same pan, add onion and garlic and cook until onion is softened. Add eggplant and zucchini and cook the vegetable mixture for about 5 minutes.
3.  Add the canned tomatoes, chicken stock, rosemary, and oregano to the pan. Gently add the lamb shanks to the vegetable mixture and bring to the boil. Reduce the heat and cover the pan. Simmer for about 1 hour.
4.  Add the beans and brown sugar to the vegetable mixture. Cover and simmer for 45 minutes, then remove the lid and cook for a further 10 minutes to brown. Serve immediately.
Thursday
Vegetable frittata
Serves 4
A frittata is one of the easiest meal choices for families, as it requires so little preparation and cooks quickly. Great for busy weeknights.
Ingredients: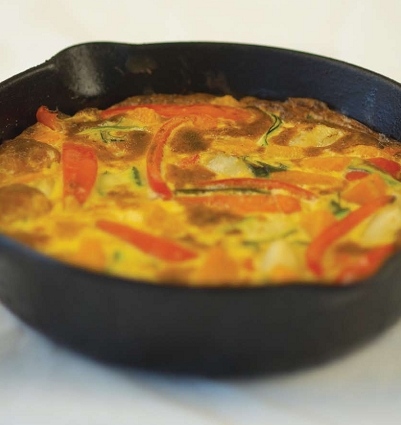 4 small potatoes, chopped into bite-sized pieces
1/4 pumpkin, chopped into bite-sized pieces
5 eggs
1/4 cup cream (or low-fat milk)
60g semi-sundried tomatoes, finely chopped
1 large red capsicum, sliced into strips
2 courgettes, peeled into long strips or finely sliced
Method:
1.  Preheat oven to 180 degrees. Parboil potatoes and pumpkin. Drain and set aside.
2.  Beat the eggs and cream together until well combined. Stir the semi-sundried tomatoes, capsicum, courgette, potatoes, and pumpkin into the egg mixture.
3.  Pour egg mixture into lightly greased frying pan and heat through until almost cooked. Remove from heat.
4.  Place frying pan in oven and bake mixture for 15-20 minutes or until the top is browned.
5.  Flip out cooked frittata onto a chopping board. Cut into slices and serve immediately.

Friday
Chicken and tamarillo pizza
Serves 4
This delicious pizza has tender chicken, tangy tamarillos, and lots of yummy extras. It's low in fat and after they've tasted it, your whole family will wish every night was pizza night!
Ingredients: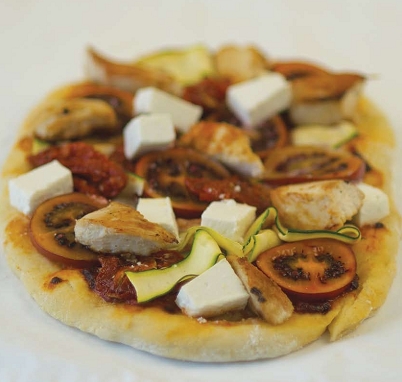 330ml lukewarm water
1 packet (2 1/2 tsp) active dry yeast
1 tbsp salt
1 tbsp sugar
500g plain flour
2 tsp olive oil
2 tbsp fresh coriander leaves, roughly chopped
1/4 cup sundried tomatoes, roughly chopped
1/4 cup tomato paste
1 diced chicken breast
100g goat feta, cut into chunky cubes
2 courgettes, sliced lengthways into ribbons
2 tamarillos, skin removed and sliced
Method:
1.  Preheat the oven to 240°C. Place lukewarm water in a shallow bowl. Add yeast, salt and sugar. Stir to dissolve yeast. Add 1 cup of the flour and blend all ingredients until smooth. Stir in remaining lour. Cover with a clean cloth and allow to rest for 10 minutes.
2.  Remove dough from bowl and place on a 12-inch tray or 2 x 8-inch trays. Spread dough evenly with an oiled spoon, almost to the edge of the tray.
3.  Place coriander, garlic, sundried tomatoes, and tomato paste into a food processor and pulse into a chunky paste. Brush onto top of pizza base.
4.  Top with chicken, goat feta, courgette ribbons and slices of tamarillo. Bake until crust is golden and chicken is cooked through (about 12 minutes). Remove from oven, slice, and serve at once.
Saturday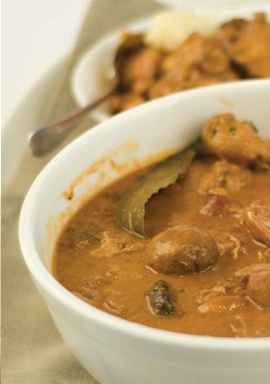 Kerri's Coq au vin
Serves 6
"Coq au vin" is French for "rooster in wine", but since rooster isn't exactly readily available at your local supermarket, we recommend chef Kerri's divinely rich version, made with chicken. 
Ingredients:
50g butter
1.5kg whole chicken, cut into pieces
Salt and freshly ground black pepper, to taste
8 small onions
100g off-cut bacon, cut into chunks
16 small button mushrooms
2 garlic cloves, crushed
1 tsp plain flour
250ml red wine
1 tsp tomato paste
1 tsp brown sugar
1 tsp fresh marjoram
500ml chicken stock
Method:
1.  Heat 25g of the butter in a large pan. Season the chicken with salt and pepper, then place the pieces into the pan to cook over a medium heat. Turn to brown them all over, then turn the heat on high.
2.  Add the onions and bacon, then cook for about 10 minutes. Add the mushrooms and garlic and cook for a further 5 minutes, until the mixture has turned a nice, golden colour.
3.  Stir the flour into the browned juice formed by the cooking mixture and cook for 2 more minutes. Add the wine, tomato paste, sugar, and marjoram. Stir and bring to boil,  then add the chicken stock and bring to the boil again.
4.  Turn down the heat so the liquid barely simmers, then cover the pan and cook for 4