Out and About Essentials
What you need depends on where you are going. Let us help simplify the military operation that is leaving the house with your baby.

All prices and availability correct at time of publication.
HOLD ME CLOSE
Babies have been carried by their parents and caregivers for centuries, without much in the way of paraphernalia. A simple wrap of fabric, to lend support to torsos and arms, was often the only piece of additional equipment in a parent's repertoire. Modern baby carriers come in a raft of designs and options, and whether you choose to wear your baby for most, or just part, of the day, you're sure to find a design (including the oh-so-important fabric colour and pattern!) to suit your lifestyle.
And while we're talking about carriers – meet juno, an exciting new product on offer from our clever friends at Mountain Buggy. The juno has been developed in collaboration with medical professionals, parents and kids to deliver the very best ergonomics for both you and your child, in four different carrying modes (from newborn to 20kgs). What we especially love about it is its 'hands-free, hands-through' connection, so you can still feel that lovely cuddliness of baby in your arms, but your shoulders and back will thank you for the extra support.
juno baby carrier, $249, mountainbuggy.com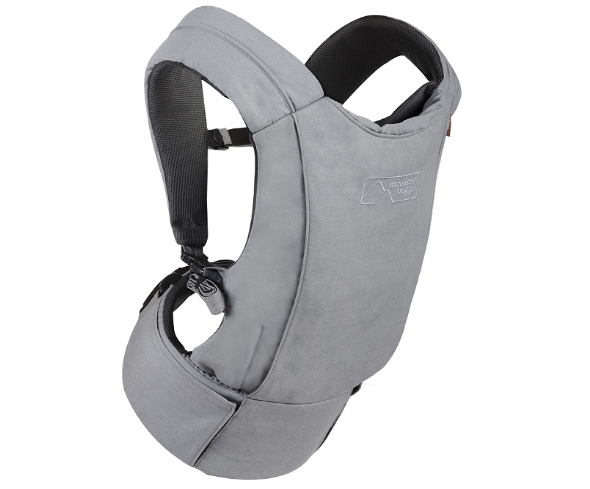 THE 'IT' BAG
While designer handbags may have been your preferred indulgence pre-baby, these days you won't leave the house without a nappy bag. Great design is still a priority though, and a vast array of options is ready and waiting to meet your nappy bag needs.
Nappy bags are designed to make changing baby as convenient as possible when you're out and about. Waterproof pouches and liners, built-in change mats, compartments for wipes, insulated pockets, car key attachments, cell phone pockets… they're basically a mobile change station. Questions to think about when purchasing include: Who is going to carry it? How many children do you need to pack for? How far are you going to take it? And how long are you planning on being away from home?

THE COMPLEX
The Isoki Madame Polly Nappy Bag is perfect for families with more than one child. Three separate inner compartments provide a generous amount of space to keep each child's belongings separate.
Isoki Madame Polly Nappy Bag, $189.95, bellybeyond.co.nz.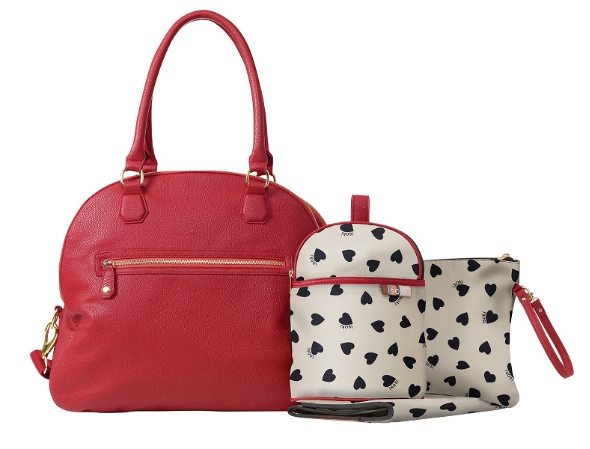 THE COMPACT
Sometimes less is more – we love Skip Hop's nappy clutch, perfect for carrying around the essentials, without weighing you down.
Skip Hop Soho Cross-Body Nappy Clutch, $64.95, bellybeyond.co.nz.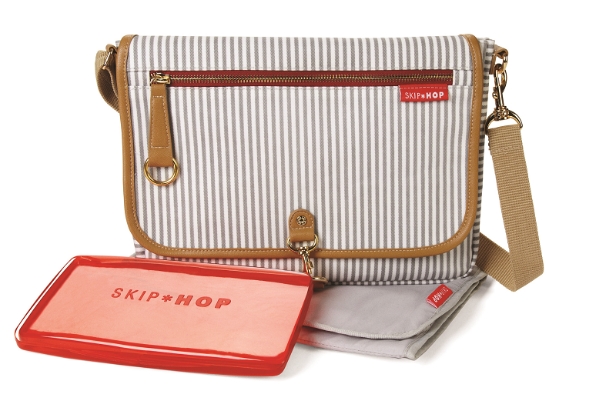 PERFECT PACKING
All those compartments are very inviting but take care not to carry around stuff that you don't actually need. Your shoulders and back will thank you for packing just the basics.
Here are our recommendations for nappy bag essentials:
● Nappies – enough to cover the expected changes for the time you are out, plus a spare for the 'unexpected'.
● Wipes
● A multi-purpose healing balm (for nappy rash or cracked nipples)
● A couple of plastic bags (for wet nappies and clothing)
● A cotton wrap that can multi-task as a blanket, sun shade, breastfeeding cover-up, change mat or emergency spill mopper-upper
●  A spare outfit – a onesie is ideal, as less to carry
● A light cardigan or jumper
● A small rattle or comfort toy
● A water bottle and snack for mum
THE GENDER NEUTRAL
Mountain Buggy's new parenting bags are designed to match their buggy range, in gender-neutral styles so all parents can carry nappies with confi dence. They come with a change mat and clips to attach to your buggy.
parenting duffel bag, $59, mountainbuggy.com
THE VEGAN
Well, obviously a bag doesn't follow any sort of diet whatsoever, but the Raylan Baby Bag Collection by Matt & Nat is made of vegan materials, including recycled plastic bottles. Stylish and hard-working, this bag even includes a laptop compartment. And, just to name-drop, it's a fave with celebrities, including Natalie Portman and Charlize Theron.
Matt & Nat Raylan Baby Bag, $299, www.humanity.nz.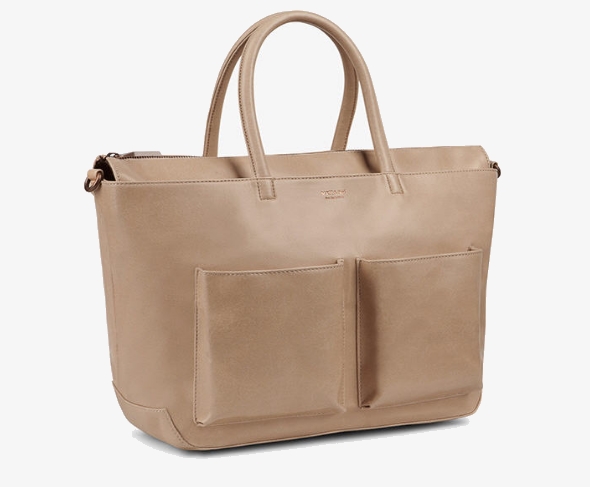 THE HANDS-FREE
And to really travel light, stash your keys, cash and wipes in this caddy that attaches to your stroller.
handbag stroller handle caddy, $39, philandteds.com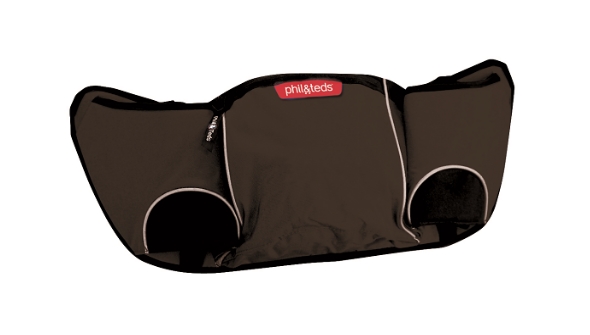 BABY'S FIRST WHEELS
What type of stroller you choose depends on many factors, including personal preference and budget, but a major consideration is the type of terrain you intend to push it on. The following are some of our favourites from leading manufacturers who can be trusted for quality design and high safety standards.

FOR THE RUNNERS
The Bugaboo Runner is sold as a complete jogging stroller (including seat and adapters) or as a chassis to click your current Bugaboo* seat on to. You can choose to jog with your child (from 9 months) facing you or looking out at the world. Other features include a brake along the entire handlebar and a lightweight three-wheeled base for easy steering.
Bugaboo Runner chassis RRP$555 and Bugaboo Runner complete (chassis, seat and adapters) RRP$1213 from babycity and Milk Store.
*Visit bugaboo.com for suitability and recommended use of seats.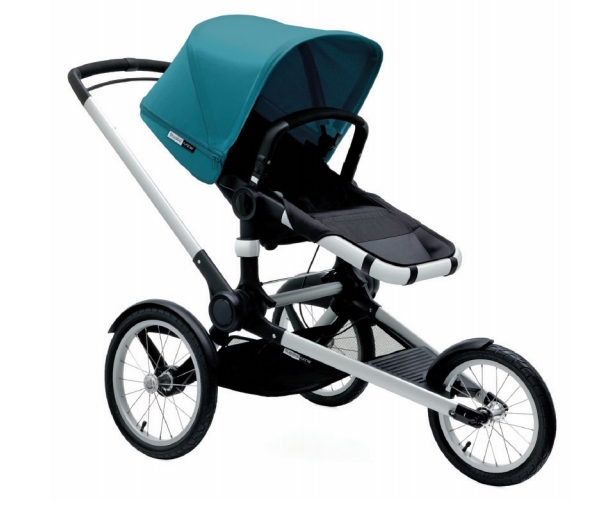 FOR THE TRAVELLERS
The nano promises convenience, longevity and manoeuvrability – but weighing in at just 5.9kg, and with the ability to fold up and fit into overhead luggage compartments, nano is perfect for jet-setting families. With built-in carseat adaptors to fit your capsule, it's a practical compact stroller for everyday life too. 
Mountain Buggy nano, $399, mountainbuggy.com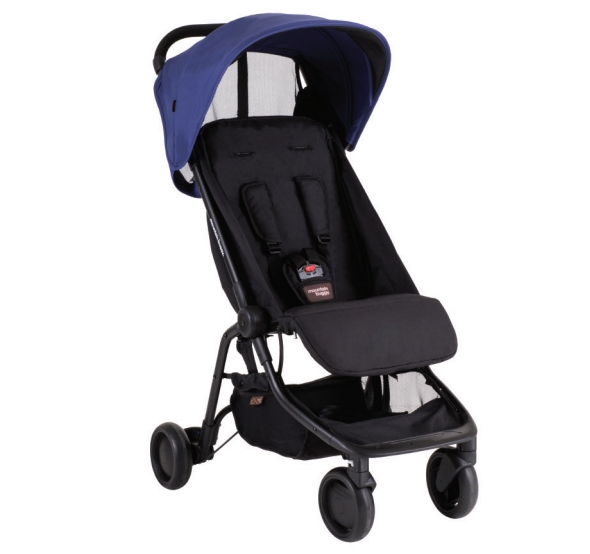 THE ALL-ROUNDER
The Armadillo Flip XT has a reversible seat so you can easily switch baby's view from you to the big wide world. It's carrycot and carseat compatible, with compact design that still provides plenty of wriggle room for the years to come. Other features include chunky wheels for a smooth ride, telescopic handles and —best of all – you can fold it down with one hand, whichever way it's facing, in seconds!
Armadillo Flip XT, RRP$999, thekidsdept.co.nz.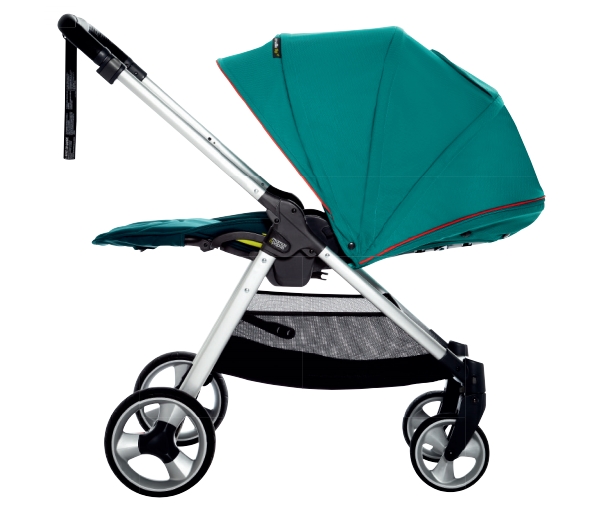 FOR A SPOT OF SHOPPING
All the style you'd expect from Baby Jogger, but condensed in a lightweight and compact design to make getting out and about quick and easy. Features include a fully reclining seat suitable for babies from birth, and a hand-operated park brake.
City Mini GT, RRP$749 from The Baby Factory and babycity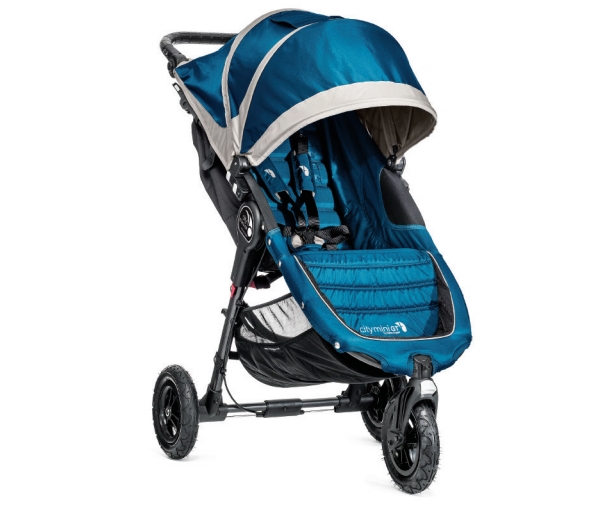 FOR THE ADVENTURERS
Ultimate performance for families who really want to stay active both on and off road. Top features include one hand fast-fold, multi-adjustable handlebar, air-filled tyres and shock-absorbing suspension. 
Mountain Buggy terrain, $839, mountainbuggy.com.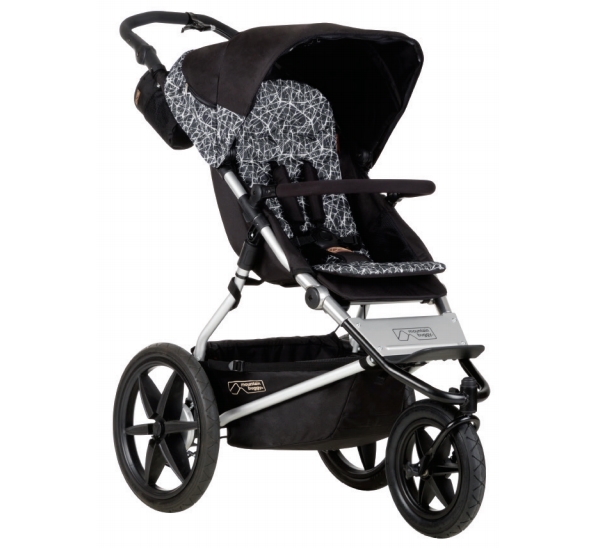 FOR THE MULTI-TASKERS
In response to demand from parents, phil&teds are releasing the all-new dash. With a sleek aluminium frame, dash is the lightest double buggy in town – and it easily fits in the boot of your car! As an inline stroller (with a roomy parcel tray), dash is also a practical choice for just one child. Later on, simply add the double kit when your family grows.
dash buggy, $899, dash double kit, $179, philandteds.com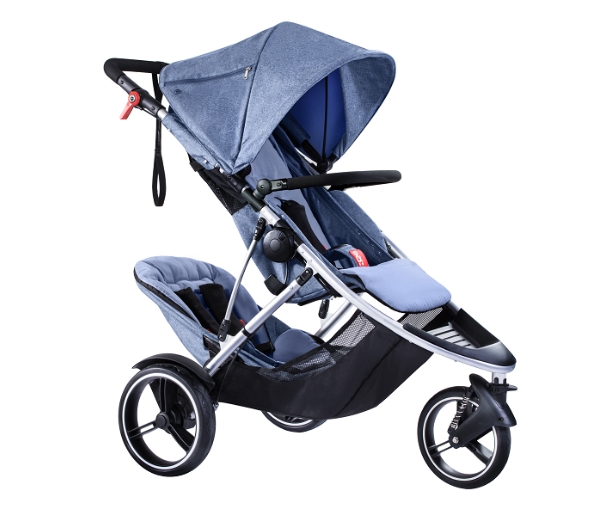 CARSEATS
If you're taking baby for a drive, you're going to need a carseat. The law in New Zealand requires that all children under the age of seven be properly restrained in an approved child restraint.
While capsul