Great picnic recipes for fun days
Summer is the perfect time of year for dining al fresco, and a portable poolside picnic is a great way to enjoy good food and good company.
Summer fruit gratin 
Serves 6-8
This baked fruit crumble is a delicious way to take advantage of summer's glorious in-season fruits.
You will need:

For the fruit gratin:
•  5 cups peeled, seeded and diced apples, pears, oranges
•  4 cups peeled, pitted, and sliced peaches, plums, cherries
•  1 tbsp wholemeal flour
•  1 tbsp light brown sugar
For the topping:
•  45g or 1/2 cup rolled oats
•  30g or 1/4 cup sliced almonds
•  3 tbsp wholemeal flour
•  2 tbsp light brown sugar
 •  1/8 tsp each ground nutmeg and cinnamon
•  1/8 tsp salt
•  2 tbsp canola oil
•  1 tbsp honey
How to make:
1.  Preheat the oven to 180°C. Lightly coat a 23cm square baking dish with baking spray or oil.
2.  Combine all fruits in a bowl. Sprinkle with flour and sugar and toss gently.
3.  In another bowl, combine the oats, almonds, flour, sugar, nutmeg, cinnamon, and salt. Whisk to blend. Stir in oil and honey, and mix until well blended. Set topping aside.
4. Spread the fruit mixture evenly in the prepared baking dish. Sprinkle the topping mixture evenly over the fruit. Bake until the fruit is bubbling and the topping is lightly browned, about 45 minutes.
5.  Serve warm or cold, sprinkled with fresh berries if you desire.
Tasty pasta salad
Serves 6
Children and adults alike love pasta, and this refreshing pasta salad is healthy and light on the palate.
You will need:

For the pasta salad:
•  500g dried fusilli pasta
•  200g baby tomatoes, cut into 4 wedges each
•  4 spring onions, finely chopped
•  1 tbsp chopped fresh parsley
•  12 pitted black olives, halved
•  11/2 cups shaved parmesan
•  2 tbsp capers
•  1 large carrot, grated
For the dressing:
•  90ml or 6 tbsp olive oil
•  30ml or 2 tbsp balsamic vinegar
•  Salt and pepper to taste

How to make:
1.  Cook the pasta in lightly salted boiling water, with a drizzle of olive oil, for about 8-10 minutes or until the pasta is al dente (firm to the bite). Drain the water, then rinse the pasta under cold running water. Toss through a little bit of olive oil so the pasta won't stick together.
2.  To make the dressing, put the olive oil, vinegar, and salt and pepper in a large bowl. Whisk well, until thoroughly combined.
3.  Add into the dressing bowl the baby tomatoes, spring onions, parsley, olives, parmesan, capers, carrot, and cooked pasta. Toss well to mix all the ingredients.
4.  Cover the salad and leave to stand for at least 30 minutes.
Season with salt and pepper to taste before serving.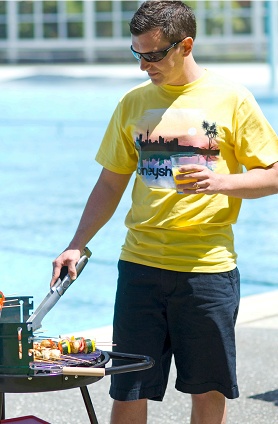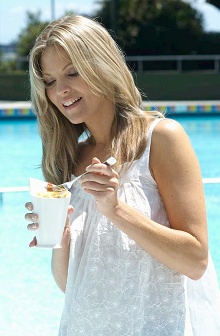 Chicken kebabs and vegetable kebabs
Serves 4-6  
Who can resist food on a stick? Kebabs are easily transportable, bite-sized, and great for adults and children alike. Keep the chicken and vegetables separate as they cook through at different times.
You will need:
For the marinade:
•  600ml dry white wine
•  250ml oil
•  100g sliced shallots
•  2 cloves garlic, finely sliced
•  4 sprigs thyme
•  2 sprigs parsley
•  2 bay leaves
•  8 black peppercorns, crushed
• 1/2 tsp salt
For the chicken kebabs:
•  800g boneless, skinless chicken breast, diced
For the vegetable kebabs:

•  2 red capsicums
•  2 yellow capsicums
•  2 red onions
•  6 courgettes
•  16 mushrooms
How to make:
1.  Place the white wine, oil, shallots, garlic, thyme, parsley, bay leaves, peppercorns, and salt into a bowl and mix well. Divide the marinade mixture in half and place into two large bowls, ensuring that bowls have equal quantities of thyme, parsley, and bay leaves. Set bowls of marinade aside.
2.  Cut chicken into 2cm pieces, then place into one of the bowls of marinade. Cover and place in the fridge for at least one hour.
3.  Cut capsicums, onions, and courgettes into 2cm chunks. Cut ends of mushrooms off. Add all vegetables to second bowl of marinade. Cover and place in the fridge for at least one hour.
4.  Take chicken out of fridge and thread chicken pieces on wooden skewers. Do the same for the vegetables. Grill kebabs until cooked through.
Baguette sandwiches
Serves 6
Sandwiches are family favourites, as they're easy to make assembly-line style and quick to dole out to hungry guests. Pregnant women who don't wish to eat luncheon meats or salami can fill theirs with the barbequed chicken from the chicken kebabs, or go vegetarian and use grilled vegetables from the vegetable kebabs instead.
You will need:

•  250g ricotta cheese
• 1/2 cup spring onion, chopped
•  Salt, to taste
•  Baguettes (enough for six people)
•  300g different salamis or luncheon meats, sliced
•  1 capsicum, finely sliced
•  Olive oil
• 1/2 cup fresh basil leaves, shredded
•  Freshly ground black pepper, to taste
How to make:
1.  In a bowl, mix the ricotta and spring onion together. Add salt to taste.
2.  Slice a baguette in half lengthwise. Spread the ricotta mixture over each half, then add a layer of salami and a layer of capsicum slices. Drizzle over some olive oil and sprinkle over shredded basil. Replace the top of the baguette, press layers together, and wrap tightly in butcher's paper and then plastic wrap before refrigerating. Repeat for other baguettes. Leave overnight in the refrigerator.
3.  Cut baguettes into wide chunks before serving. This recipe is best if prepared the night before. 
Antipasto platter
Serves 6
Forget messy, greasy bags of chips. A moveable feast calls for an antipasto platter that can be enjoyed by children and adults alike, and this one is full of classy selections. Store in a chilly bin until ready to partake, and make sure that some of your antipasto choices are suitable for pregnant women so any expectant guests don't feel left out.
You will need:

•  A selection of crackers
•  ABE'S Bagel Crisps
•  Fresh fruit (strawberries, blueberries, raspberries, and grapes are good choices)
•  Cheeses (a variety of soft cheeses for non-pregnant guests, such as brie and camembert, go nicely with chunks of cheddar and edam for the expectant mums)
•  Olives
•  Store-bought hummus or baba ghanoush
•  Pesto (we love Lisa's Rocket and Parmesan Pesto with Lemon and Roast Cashews)
•  Dip (we love Lisa's Satay with Curry and Roasted Peanuts Chunky Dip)
How to make:
1.  Refrigerate perishable ingredients until ready to serve, then arrange your antipasto ingredients on a platter or in a serving container. Serve as an appetiser while the barbeque food is being prepared.
Chocolate-drop blondies
Makes 24
This super-easy recipe is practically foolproof. Bakes up beautifully and always a hit with the little ones!
You will need:

•  1 box vanilla cake mix
• 1/2 cup butter, melted
•  2 eggs
•  1 cup milk chocolate drops
• 1/2 cup white chocolate drops
•  Icing sugar and fresh fruit, to serve
Howto make:
1.  Heat oven to 175°C. Line the bottom and sides of a cake tin with baking paper. In a large bowl, mix cake mix, butter, and eggs with spoon. Stir in milk and white chocolate drops. Spread evenly in pan with a spatula sprayed with
cooking spray.
2.  Bake in oven for 20 minutes or until edges are golden brown. Allow to cool completely (for about one hour).
3.  When cool, cut bars into three rows by four rows, then cut each square in half diagonally to form triangles. Store in an airtight container. Serve sprinkled with icing sugar and fresh fruit. These freeze well.
Sparkling fruit refresher
Serves 6
This delicious drink keeps well during the day and provides the perfect accompaniment to picnic fare. Make it ahead and store in a leak-proof drink container with ice for easy transport.

You will need:
•  Equal measures lemon juice, pineapple juice, and orange juice
•  Dash of grenadine
•  Ice
•  Soda water to top up
•  Pineapple slices, if desired
How to make:
1.  In a large pitcher or drink container, add the lemon juice, pineapple juice, orange juice, grenadine, and ice. Shake well, then strain into six tumblers.
2.  Top up with soda water and decorate with pineapple slices, if desired. Serve with straws.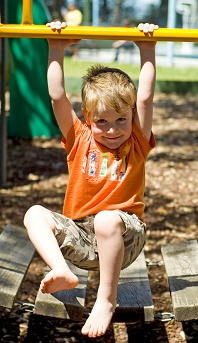 AS FEATURED IN ISSUE 4 OF OHbaby! MAGAZINE. CHECK OUT OTHER ARTICLES IN THIS ISSUE BELOW