Rarotonga - I do, again
Vicki Febery finds out about renewing your wedding vows, Rarotongan style.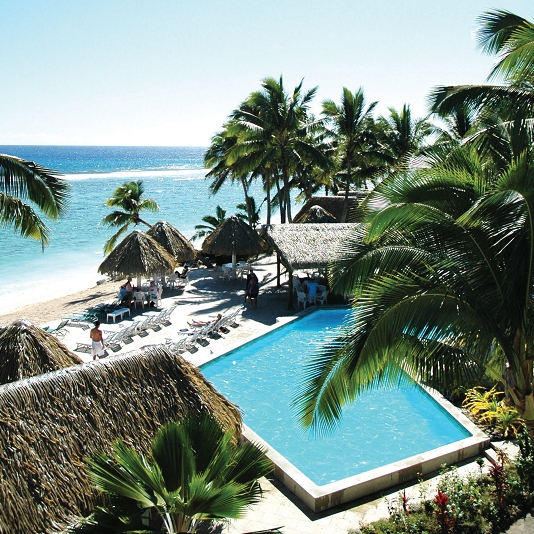 A couple's wedding day is one of the most special days of their life; a day on which two individuals confirm their love for each other in front of family and friends, and become legally bound. The arrival of one or more children turns that couple into a family, and it's a wonderful time to reaffirm the vows made to each other and include the new family members in the occasion.
     Renewal of vows ceremonies are on the rise, both at home and abroad. They often coincide with significant anniversaries, but increasingly, parents of young children are opting to renew their vows in front of their children, as a way of celebrating the life and family they have built together.
     And what better time to do it than while on holiday on the beautiful, relaxed, and romantic island of Rarotonga. It's less than four hours from Auckland, and the 23-hour time difference means your body clock needs virtually no adjusting. It's so incredibly relaxed that within moments of stepping onto the tarmac at Rarotonga Airport (or boarding the plane in New Zealand if you're flying with the crew on Pacifc Blue), the stresses of home will simply melt away.
     Rarotonga's Edgewater Resort, just 10 minutes from the airport, makes planning a renewal of vows ceremony so easy that even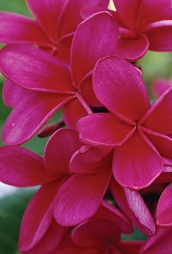 several husbands have managed to organise them, surprising their wives on the day of the ceremony.
     The Edgewater's Wedding Manager, Elena Searle, had a wee tear in her eye as she recounted the story of New Zealanders Andy and Kathy, who were married at the resort back in 1992, and who returned in December 2008 to renew their vows (unbeknownst to Kathy, who simply thought she was on holiday).
Elena says, "Andy organised it all with me, and was so worried that Kathy was going to guess what was happening." However, Kathy had no idea what was in store, and following a relaxing day of beauty treatments at the resort's spa with Andy's daughter and co-conspirator Sam, Kathy arrived at 5.30pm for poolside cocktails. On arrival, Andy asked Kathy if she would marry him
again. The couple exchanged the rings they were married with 16 years before, which Andy had cleaned just that afternoon while Kathy was at the spa. Romance exemplified!
     But renewal of vow ceremonies don't have to be a surprise. "Many couples choose to invite family, friends and even original members of the wedding party to join them on vacation for the witnessing of their vows. Children are often invited to do a reading, sing a song, or simply hold their parents' hands as the vows are exchanged," Elena explains.
     What most couples agree upon is how stress-free the renewal of vows is. "We take care of everything," Elena says. "So the couple really just needs to focus on relaxing and enjoying their day. In fact, one of the key advantages of a destination wedding  is its relaxed nature - it's very different from the stresses than can be felt with formal white weddings at home."
     Ceremonies typically take place at the resort in the late afternoon, to take advantage of the best light for photographs. Even "point and click" photographers can't help but take beautiful photos of the sun setting over the lagoon. With an archway decorated with palm leaves and local tropical flowers for the couple to stand beneath during the ceremony, the resulting
photos are simply stunning.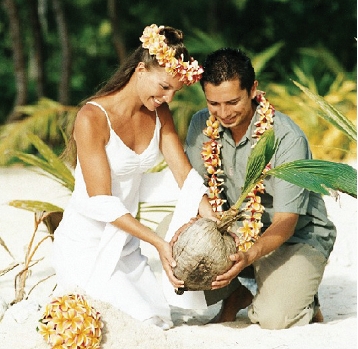 As part of the ceremony, couples are invited to plant an Uto, a baby coconut palm. The resort's gardens and beachfront are full of flourishing coconut trees, symbolising the strength of the couple's relationship as the trees grow. Couples who book their weddings or renewal of vows packages at the Edgewater are also upgraded to spacious suites, with sea views and a spa bath.
     If you're planning on inviting family and friends to witness the ceremony, the Edgewater Resort and Spa has a variety of accommodation options, catering for many budgets. Some rooms have kitchen facilities for those wishing to self-cater, and the on-site restaurant has plenty of dining options and theme nights. Many couples choose to marry or renew their vows on Tuesday or Saturday nights, when the resort runs its twice-weekly island theme nights. A buffet dinner full of island delicacies is served before the beautiful island dancers perform onstage. Cook Islanders love romance, and wedding couples and honeymooners are made a real fuss of.
     While the renewal of vows ceremony is incredibly special, simply spending quality time with your loved ones at the resort and exploring the island really add memories to the trip. Some of the island's best snorkelling is found by simply walking into the water in front of the resort. Captain Tama's Lagoon Cruizes, operated from Muri beach, also offer snorkelling or "dry viewing" of the marine life aboard their glass-bottomed boats. It's a great way to involve young ones (who may not like putting their faces in the water yet) in a marine visit.
     Other activities sure to please a wide variety of tastes are the 4x4 or buggy adventures into the mountains. Offering amazing views and traditional umu lunches, the trips are thrilling, stunning, and educational, all at once.
     One of our favourite activities was discovering the Papua (or Wigmore's) waterfall, where locals were climbing up the rocks and jumping, diving, and bombing their way into the water. We were bold enough to swim in the deliciously cool water and put our heads under the cascading falls, but couldn't quite brave climbing the rocks to have a go at jumping in ourselves. Our three-year-old loved watching the big kids' antics, and enjoyed swimming in water that didn't "taste bad" (he's not a big fan of sea water).
     Children also love feeding the fish each morning in front of the resort, crab hunts, crab racing, painting coconuts and learning to make an ei (a fower garland). While the resort doesn't have a dedicated kids' club programme, the staff in the activity hut (right beside the pool in the centre of the resort) have a range of activities to entertain both adults and children. Babysitters are also available for just $7.50 per hour, for up to two children.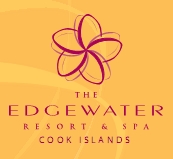 If you're searching for a destination to reaffirm your love for your partner, The Edgewater Resort and Spa in Rarotonga certainly fits the bill. Relaxation, ease of planning, pampering, stunning scenery and your friends and family well taken care of by friendly staff… You'll wish your first ceremony had taken place here as well.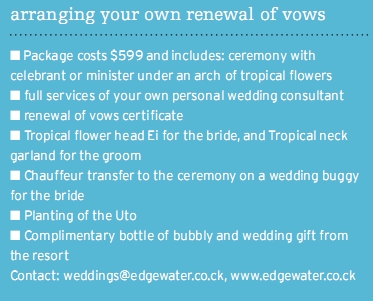 Things to do
*  Edgewater Resort's Island theme night (Tuesday and Friday) - www.edgewater.co.ck
* Hire a car and explore. Prices vary, but started from around $37.50 a day when we visited - www.budget.co.ck. A Cook Islands driver's license ($20 for up to a year) is required and can be obtained at the police station in town
* Visit Papua (Wigmore's) waterfall (travelling clockwise it's on the dirt road following Wigmore's store). Take your insect repellant!
* Captain Tama's Lagoon Cruizes - www.captaintamas.com
* Tangaroa 4 x 4 Tours - www.tangaroa4x4.co.ck
* Highland Paradise Cultural Tour and Drums of Our Forefathers - www.highlandparadise.co.ck
* Visit Trader Jack's restaurant for a great pizza overlooking the harbour.

Highlights
* Feeding the fish each morning with the activity centre staff
* Snorkelling in front of the resort
* Discovering Papua (Wigmore's) waterfall and swimming in its cool waters
* The evening sunsets
* Spending family time together in a relaxed location
* Flying with the vivacious crew on Pacifc Blue! On landing in rarotonga, we had already left the stresses of New Zealand behind
OHbaby!'s tips for travelling to Rarotonga with kids
* If travelling with a toddler and planning visits to the markets, it may be a good idea to take a stroller. Youngsters tire more easily in the heat than they do at home.
* You may like to take familiar snacks and drinks from home. Jelly and fruit pottles are excellent for travelling, and they help keep fluids up.
* It's not a legal requirement for children to be in child restraints in Rarotonga. The car rental companies have car seats for hire, but you may like to take your own with you.
* Reef shoes are recommended to protect against coral cuts.
* Don't forget your sunscreen! And take along a basic first aid kit, including plasters and Pamol.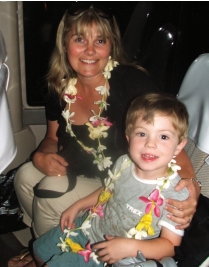 Vicki Febery is OHbaby!'s former Marketing Manager, wife to Grant, and mother to three-year-old son, Harrison. She discovered the week before flying out to Rarotonga that she was pregnant. Missing out on poolside cocktails and shellfsh delights in Rarotonga was a small price to pay for the long-awaited arrival of Baby Number Two (due September).  She is currently embracing the delights of revisiting her breakfast on a daily basis.
AS FEATURED IN ISSUE 5 OF OHbaby! MAGAZINE. CHECK OUT OTHER ARTICLES IN THIS ISSUE BELOW