Choosing to go Green
All around New Zealand, families are doing their bit to improve the planet. From worm farms to compost heaps to walking school buses, we're making small changes that we hope will add up to a big impact. But what about businesses? How are the companies we buy from making an effort to improve their impact on the environment? We take a closer look at six Kiwi businesses and find out how they're changing to become more earth-friendly.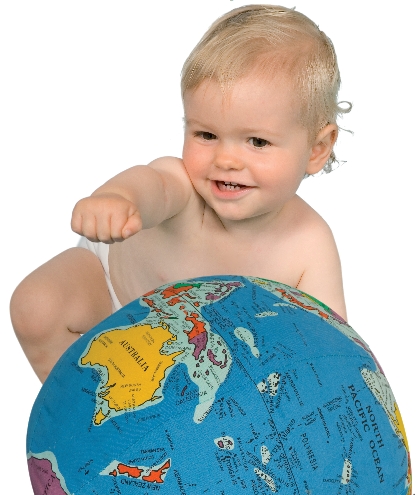 "Green" is a buzzword that we can't seem to escape. From reducing our carbon footprint to conserving water to investing in renewable and sustainable sources of energy, the environment and our impact upon it is
certainly at the forefront of modern society's thinking. When our grandparents were having babies, the post-war economy was booming and the state of the environment certainly wasn't the worry that it is now. Chemicals were helping to bring luxury to the masses, making "the good things" in life easier and more accessible. Instead of tying your curls up in rags at night (like shirley temple did as a child), you'd go down to the beauty parlour for a chemical perm, frying your locks into kinks and waves. Silk stockings, once ruinously expensive and fragile, were replaced by the incredible innovation of nylon pantyhose. Tv dinners, microwaves, aerosol hairspray, chemical pesticides, air travel… But these wonderful advances in technology, which we take for granted and can't imagine living without, are the same things that are causing our environment harm.
     As a consumer, you are a faced with a great deal of choice when it comes to buying ecologically conscious products and services. We're told that we should be looking for items that are organic, natural, green, eco-friendly, environmentally conscious, sustainable, ethical, fair-trade, and kind to the planet. Imagine you're standing in the produce aisle of your local supermarket, looking at two bins of apples. Both are red and rosy-cheeked, but one is marked "organic" and the other isn't. Which are you more likely to buy? If the price is similar, chances are you'll reach for the organic apples over the non-organically grown ones. It's become almost a relex to choose the "greener" option.
     But what if those organic apples were lown in from the US, and the non-organic apples were locally grown? Then how do you choose? The organic apples' impact on the environment, through the carbon dioxide released into the atmosphere via the fuel burned as they accrued thousands of "food miles" just getting to New Zealand, might be greater than that of the locally grown apples that were produced with the aid of pesticides.
     Organic cotton or bamboo clothing is a similar story. It's all very well and good to produce organic clothing - certainly it's better for the environment and for your own body - but what about getting it to New Zealand? We're a small country that lies, quite literally, in the middle of nowhere, and if the organic cotton outfit you've just bought for your newborn was made in another country, investigate how it got here. Was it shipped or flown? Did the company whom you bought it from offset the environmental impact of transporting it from it's country of origin to here? Further still, was it produced in an ethical, sustainable manner, in a factory that subscribes to fair trade requirements? Or is the fabric it's made from the only thing "organic" about it? It's important to take a closer look at where your purchases are really coming from.
     With the current focus on environmental impact, it is no doubt tempting for companies to "greenwash" their actual contribution to reducing their carbon footprint. But who is really spending the time - and the money - to investigate ways that their business can be run more eficiently and more "green"? What companies in Godzone are making a difference to the planet through innovative, out-of-the-box initiatives that will not only help consumers, but also help the environment? We took a closer look at six Kiwi businesses and the lengths they're going to in order to preserve our planet.
 
Recycling disposable nappies
Do you use disposable nappies, and do you feel guilty about it? Disposable nappies are constant targets for abuse about their impact on the environment. The flak they cop seems to have more to do with their disposal than their manufacturing, as environmentalists and cloth nappy aficionados alike critique the way they're bundled up with the household rubbish and dumped in landills. So-called "biodegradeable" disposable nappies do exist (and we've tried them), but they require composting in the backyard rather than simply tossing into the rubbish bin, so aren't "disposable" in the traditional sense of the word.
     Modern cloth nappies are one option if you're concerned about the impact your child's bottom is having on the earth. But if you're feeling virtuous for using cloth nappies, keep in mind that the environmental cost of producing the material used in making those nappies can be huge. cotton, which many cloth nappies are made from, is considered the "dirtiest crop" on the planet because of its negative impact on the environment. A recent UK study shows that the environmental cost of cloth nappies, when manufacturing and washing are taken into account, is similar to that of using disposables anyway.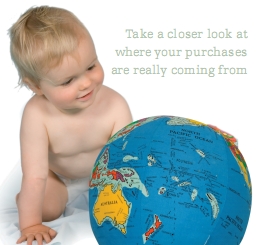 The New Zealand Ministry for the environment reports that disposable nappies make up around 1.9% of our landfills. While this is not a huge percentage in the grand scheme of things (for example, plastics make up 9.1% of landfill, and rubber accounts for 5.1%), one disposable nappy manufacturer has devised a way to reduce this number even further - without asking parents to change their minds about using disposables.
    Kimberley-Clark, the manufacturers of Huggies nappies, has recently taken steps to reduce disposable nappies' impact on the environment. First, as any parent using Huggies over the last couple of years might have noticed, Huggies have slimmed down their nappies, reducing their bulk by over 50% in the past five years through improving their product design. The UK study has concluded that design changes such as these have decreased disposable nappies' overall environmental impact by 12% in the past decade.
     But more interestingly - and more excitingly for parents using disposables - Kimberley-Clark has helped to develop the technology to compost disposable nappies, sanitary products, and wipes. Located in Canterbury, close to the Waimakariri and Hurunui border, the Huggies envirocomp solution (www.envirocomp.co.nz ) is a joint project between envirocomp Ltd and Huggies. This initiative is the first commercial nappy composting facility in New Zealand, and quite probably the only one in the world able to compost all brands of disposable nappies, sanitary products, and continence items.
     The Huggies envirocomp solution was started by parents Karen and Karl Upston, who, in 2007, conducted a five-month trial composting disposable nappies. The trial, which involved 200 families, six preschools, and a local maternity unit among others, composted approximately 450,000 nappies (around 56 tonnes). Working with a composting company called R5 Solutions, the manufacturers of a range of composting facilities called HotRot, the Upstons concluded from their trial that disposable nappies and related products could be commercially composted.
     "We got involved in the initiative initially because we were impressed by
the combination of Kiwi technology and initiative which matches our own
commitment to evaluate alternative solutions for disposing of nappy waste," Huggies states on the envirocomp website. It's clear that there are benefits to being able to compost disposable nappies, and impressive that the composting facility is able to handle all brands of disposable nappies, not just Huggies.
     The way that the envirocomp system works is that nappies are collected - first from homes in the Christchurch, Kaikoura, and North Canterbury regions - then taken to the envirocomp plant and loaded into the specialised HotRot composting unit. Over a period of two to three weeks, the nappies decompose, eliminating all pathogens and becoming compost. At the end of this three-week period, the compost is screened to remove all of the non-compostable materials, such as plastic from nappies. The plant will be able to compost 2.5 tonnes of nappies per day - about 15,000 nappies - and as demand for the service increases, they are able to quadruple this volume to be able to compost 10 tonnes (about 60,000 nappies) per day.
     Initially, Canterbury families will be the lucky ones able to take advantage of this innovative technology, but Huggies envirocomp hopes to expand the service into other areas of the country as interest grows. In June 2008, the Upstons were presented with a Green Ribbon Award from the Ministry of the Environment for "Making a Difference to Household Sustainability" through the Huggies envirocomp solution.
Carbon-neutral courier company
Everyone loves it when the courier drops off a parcel. Whether it's an online auction win, an internet shopping purchase, or an unexpected gift, chances are you've had a visit from a courier this week (especially as it's so close to Christmas). Businesses use couriers even more than consumers - to send urgent documents off to be signed, request parts from warehouses, transfer items between branches, deliver orders… For many things, the regular old postal system just won't do, and this is where couriers are invaluable.
     All of those courier vans zooming past us on the motorway emit carbon
dioxide, through their use of fuel. That's where Urgent Couriers saw a prime opportunity to not only reduce their carbon emissions, but to take things even further, becoming New Zealand's first transport company to be certified carbon neutral, and the only courier company to hold this distinction.
     How can a company whose day-to-day operations involve burning fossil fuels become carbon neutral? In 1999, Urgent couriers adopted sustainability as a company policy, but it didn't stop at abstract thinking. First, they measured their carbon footprint so they knew, as a company, what they were doing to the environment. This was done through the carboNZerocert programme, an internationally recognised greenhouse gas certification scheme, and this footprint is externally audited each year.
     As well as keeping track of their carbon emissions, Urgent Couriers has taken practical steps to reduce these emissions and make positive changes to their business practices, such as:
•   Increasing the size of their "pedal fleet" of cycle couriers, and increased the area in which cycle couriers operate so there's less of a need for vehicle couriers in some areas.
•   Developing innovative technology to improve efficiency and reduce number of kilometres travelled per day.
•   Implementing vehicle guidelines for new contractors, in order to reduce fuel consumption and raise the number of low emissions vehicles in the fleet to 50% by the end of 2008 and 80% by end of 2010.
•   Replacing all company-owned vehicles with low-emission vehicles. This has already resulted in a 40% reduction in fuel consumption, and played a large part in keeping their carbon output relatively static while the business has grown.
     While Urgent couriers is offsetting their carbon footprint, their real goal is to find ways to continuously reduce that footprint. In the meantime, they are offsetting remaining emissions, through tree-planting and by purchasing verified carbon credits from Landcare research's EBEX21 project, which creates credits through native forest regeneration, wind farms, and landfill gas projects.
     Urgent couriers' Managing Director, Steve Bonnici, serves on the executive board of the New Zealand Business Council for sustainable Development, and was part of a team of international experts to put together a sector supplement for the Global Reporting Initiative (GRL) for the freight and logistics sector.
     "As a business that emits carbon from fossil fuels, we wanted to take responsibility for our environmental impact, and inspire other businesses to do the same."
Planet-friendly printer
Have you ever seen a printing press